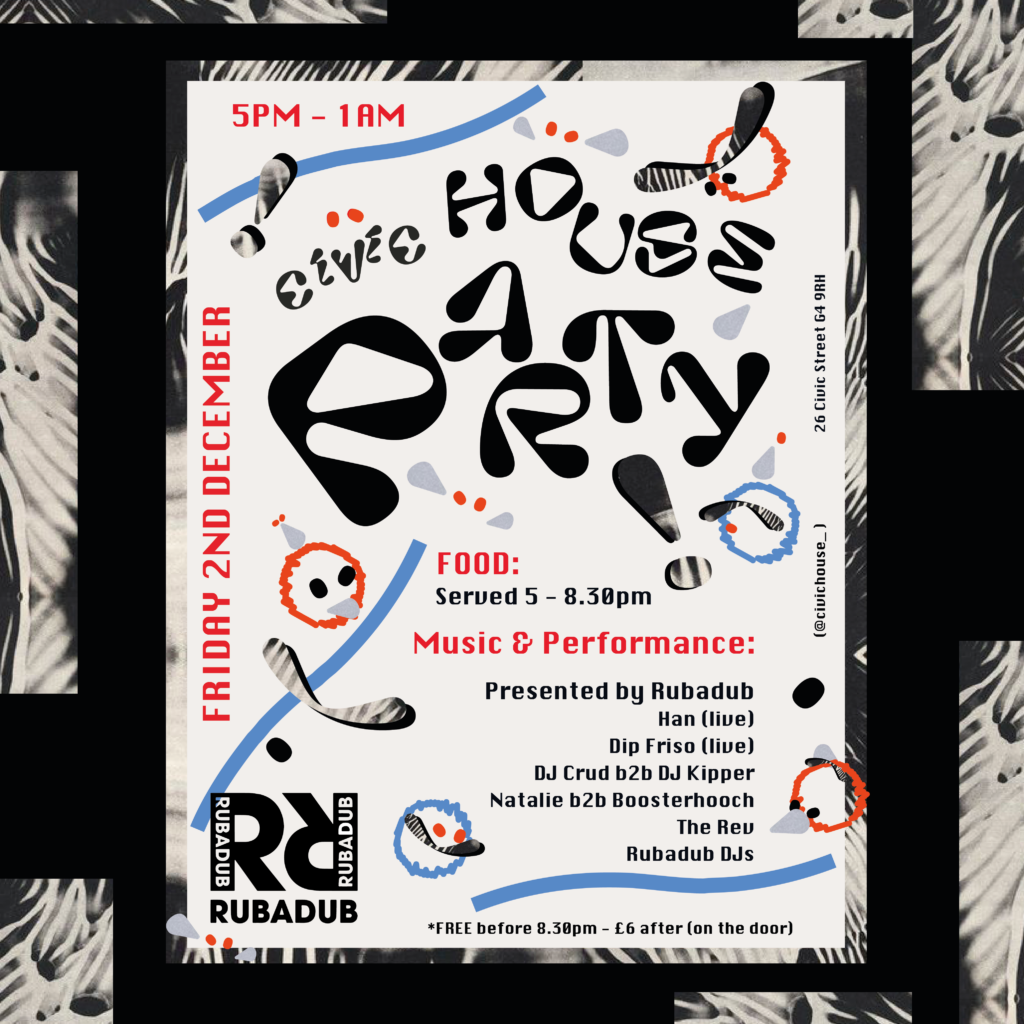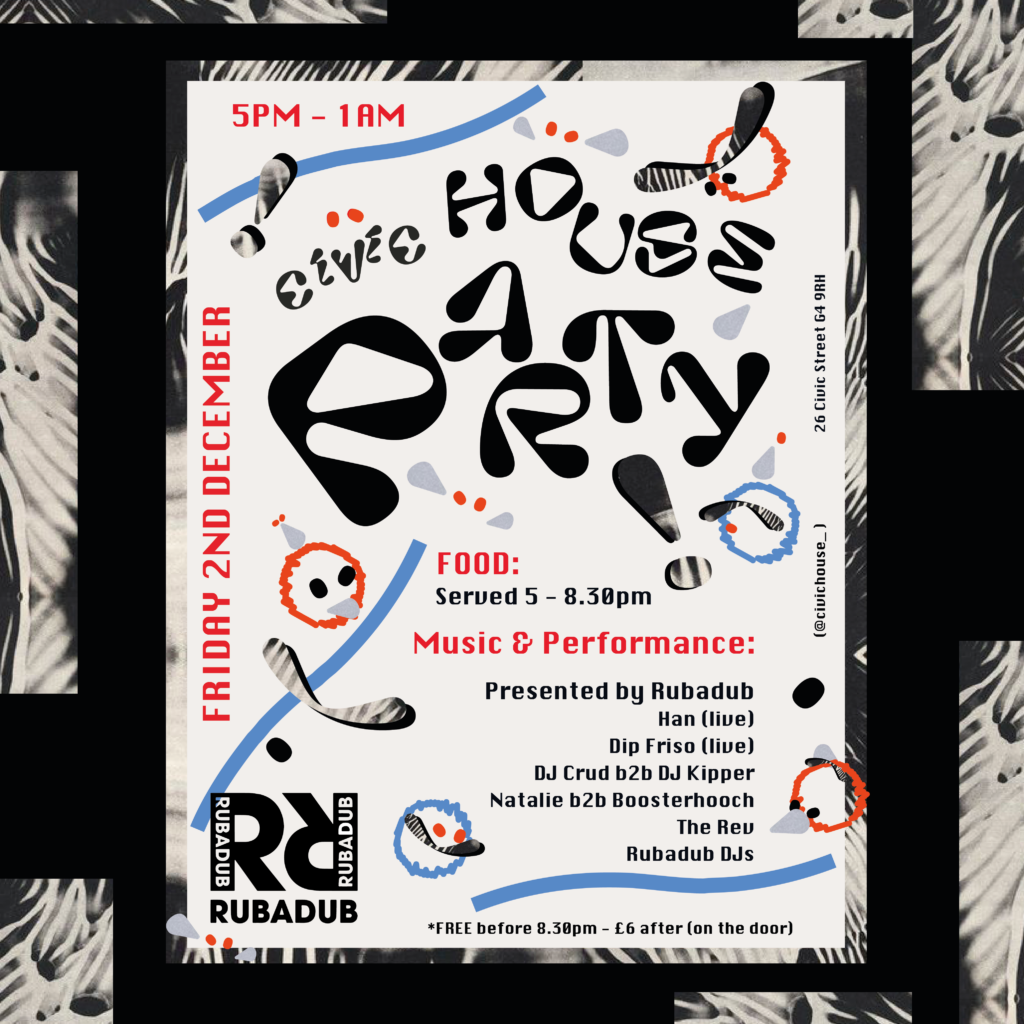 Civic House Party: Rubadub + mooli
A monthly Friday party to celebrate Glasgow's music and food culture. Across the canteen, bar and venue of Civic House we create a house party atmosphere – intimate, social, and informal. A place to connect over dinner, drinks, performances, DJs, and dancing.
Each edition we invite taste makers who have made an impact building communities around food and music in the city to encourage cross-over between different scenes and cultures.
The format is consistent, with drinks and food from 5pm – served simple 'canteen-style' until it runs out. Performances and DJs start from 8pm. It's free before 8:30pm, £6 after (no tickets – pay on the door). We clear tables from 9pm to create the dance floor – lights down, tunes up – and party until 1am.
It can get busy – so come down early!
---
Music
This month's music is curated by Rubadub. When it comes to dance music in Glasgow, Rubadub is not so much a record and hardware shop as it is a rite of passage. With friendly staff welcoming you into their haven of wall-to-wall tech and vinyl, we can't wait to translate their passion for music to the speakers at Civic House.
Han (Live)
Han's music is her attempt to make dance music without following any of dance music's conventions, resulting in what must then be experimental electronic music. Her recent cassette release on GLARC was conceptualised around a fictional Institute of Ecoterrorism, and was featured in The Quietus' New Weird Britain review. It has been broadcast on radio by the likes of NTS' The Trilogy Tapes and Debonair, and BBC3's Late Junction. She runs a monthly series of events in Glasgow called Events Research Programme, plays live at Civic House this Friday!
Dip Friso (Live)
Dip Friso aka Grim Lusk aka Sunny Balm aka Murray Collier, one half of Pussy Mothers and founder of the Real Landscape label has released a wide range of genre-confounding material for labels like Optimo, Sacred Summits, Domestic Exile and, of course, Real Landscape; this year's "Crocodile or Real?" LP is without a doubt up one of the best LPs we heard in '22, and we're honoured to have Murray bring his live alchemy to Civic House on the 2nd.
DJ Crud b2b DJ Kipper
DJ Crud is an artist & illustrator based in Glasgow, co-founder of the labels 12th Isle and Concrete Cabin, and a pretty exceptional DJ in his own right; 2020's "Sea Level" cassette for Habibis being a particular highlight for us. DJ Kipper, perhaps better known as Lucy Duncombe, is an artist working in the field of sound; Lucy's self-released cassette "The Rapture of Cellular Accretion" (collaborating with the aforementioned Mr. White) has rarely been off rotation at Rubadub since its release last year. This Friday they collaborate once again for a special b2b DJ set.
Natalie b2b Boosterhooch
Natalie is the founder of ENVY and a DJ + RAD customer of over 25 years. With ENVY, a quarterly club night at La Cheetah and subsequent bi-monthly radio show on Clyde Built, she explores the the intersection between the sweeter & tougher sounds of club music, having had guests such as Ghost Phone, Michael J Blood & Front Left Life down to the Queen Street basement over the past 12 months. Boosterhooch, aka Hannah Read is a Glasgow-based DJ who's style has no distinct lane, and is all the better for it; Boosterhooch can easily weave between the experimental & anthemic, as evidenced by her recent & utterly killer contribution to Finn's Mixtape Club. We're excited to host these two not only as friends and former members of staff, but primarily as two exceptional DJs playing their first ever b2b!
Rubadub DJs
With the combined age & experience of over two centuries, you'd think we'd be pretty good at this by now. Whilst that's still up for debate, we reckon we can bring you at least three exemplars of the disc jockey: Joe, Dan & Ryan aka The Rev. Expect something more than half-decent, and perhaps even verging on appropriate.
---
Food
A delicious dinner will be served up by our canteen connoisseurs mooli – more info soon.
Food is served from 5pm-8:30pm, but remember Fariya and Sahar only cook 130 portions of food, which can sell out by 8pm. If you're hungry we suggest you get down early!
FREE entry before 8:30pm, £6 after on the door.