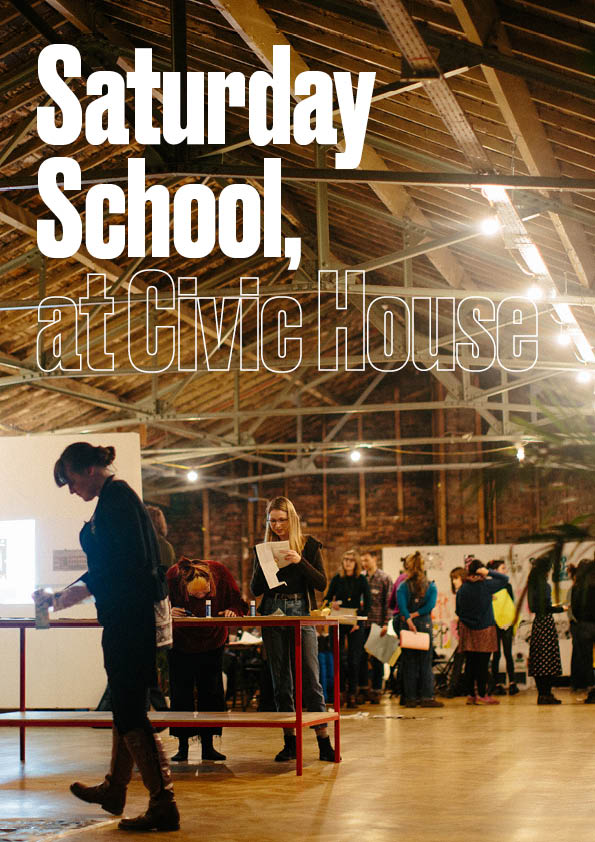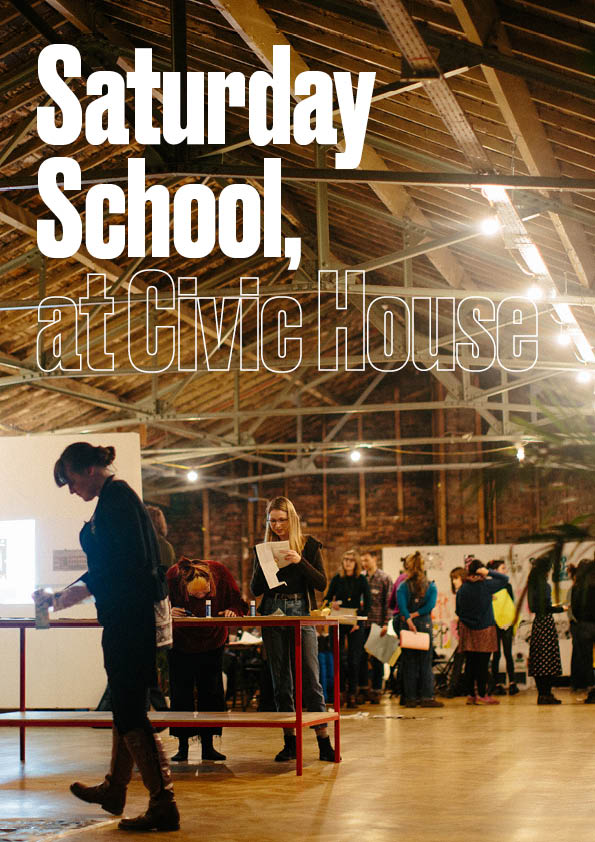 Saturday School: February 2020
Saturday School is a day of creative workshops.
Every month, we will fill the spaces of Civic House with workshops led by practitioners working across art, design and sustainability. Our aim is to create a stimulating environment for testing new ideas, learning through making and sharing skills and knowledge.
Spend the day developing a new skill, exploring a practice or learning about new topics and subjects.
Then from 7pm, share a meal with everyone who's taken part in the workshops, served by the Civic House Kitchen team.
From 9pm onwards, Civic House will host After School Club: Valentines with Subcity with:
OMESA (Live)
Murmuru – (https://subcity.org/shows/murmuru/)
Sticky Jam Sessions – (https://subcity.org/shows/stickyjam/)
Club Action – (https://subcity.org/shows/clubaction/)
Junglehussi
---
DAYTIME WORKSHOPS:
Glasgow Tool Library – Form Follows Function
In this workshop participants will design and build their own piece of furniture or object to take home with them. Begin by taking inspiration from a range of conventional modernist designs and then review the materials available to assess the best construction methods.
This workshop is kindly supported by the Climate Challenge Fund.
13:00 – 18:30
Tickets –
https://gtl-saturdayschool-2020.eventbrite.co.uk
Civic House Kitchen – Food Workshop
The workshop will give an introduction to simple vegan recipes made fancy with nuts, seeds, herbs and spices. Learn how to make big, colourful sharing dishes that are full of flavour but not too difficult or expensive to make – take home some food, a few recipes and some knowledge on vegan cooking!
This workshop is kindly supported by the Climate Challenge Fund.
13:00 – 15:00
Tickets –
https://chk-saturdayschool-2020.eventbrite.co.uk
Risotto – POSTER CLUB
Join in RISOTTO's POSTER CLUB to experiment with graphics, patterns and collaboration to create a whole assortment of prints! Experiment with graphics and patterns and collaborate to create 5 different artworks that will be exposed on 5 different drums. This is a great workshop if you're new to risograph and want to see how the process works – you'll leave with an extensive bundle of colourful printed matter!
Tickets – https://www.risottostudio.com/workshops/saturday-school-civic-house-risotto-poster-club-workshop-february/
Subcity Radio – VALENTINE'S DJ WORKSHOPS!
Subcity Radio presents their Valentine's DJ workshop, lead by some of the stars of the station! Aimed predominately at POC, queer people and womxn, this free(!!!) class will run through and iron out all your DJing starter fears!
Local legend Heatnavi (aka Aposympiesis) will walk you through the steps to get your tracks from computer to USB and deck friendly. Babestation's dynamic duo will show you the ropes on the CDJs, whilst Angel Delight's Mark will take it back to basics with a tour around the records.
Later on, Junglehussi and 2K-OK will run a more advanced masterclass, showing how they perform their sets. You can catch Junglehussi in action when they play the club for real later in the evening!
Those participating in either class will then have the opportunity to practise their new-found skills on our open decks, before settling down for a hot date meal!
Sign up for your spot here: http://bit.ly/subcity-workshops
—
*All ticket fees go towards the costs of the facilitator's time & materials to run the workshops. But – no one will be turned away due to lack of funds. If fees present a barrier to your participation, please get in touch at:
hello@civic-house.com
Photo credit: Jassy Earl