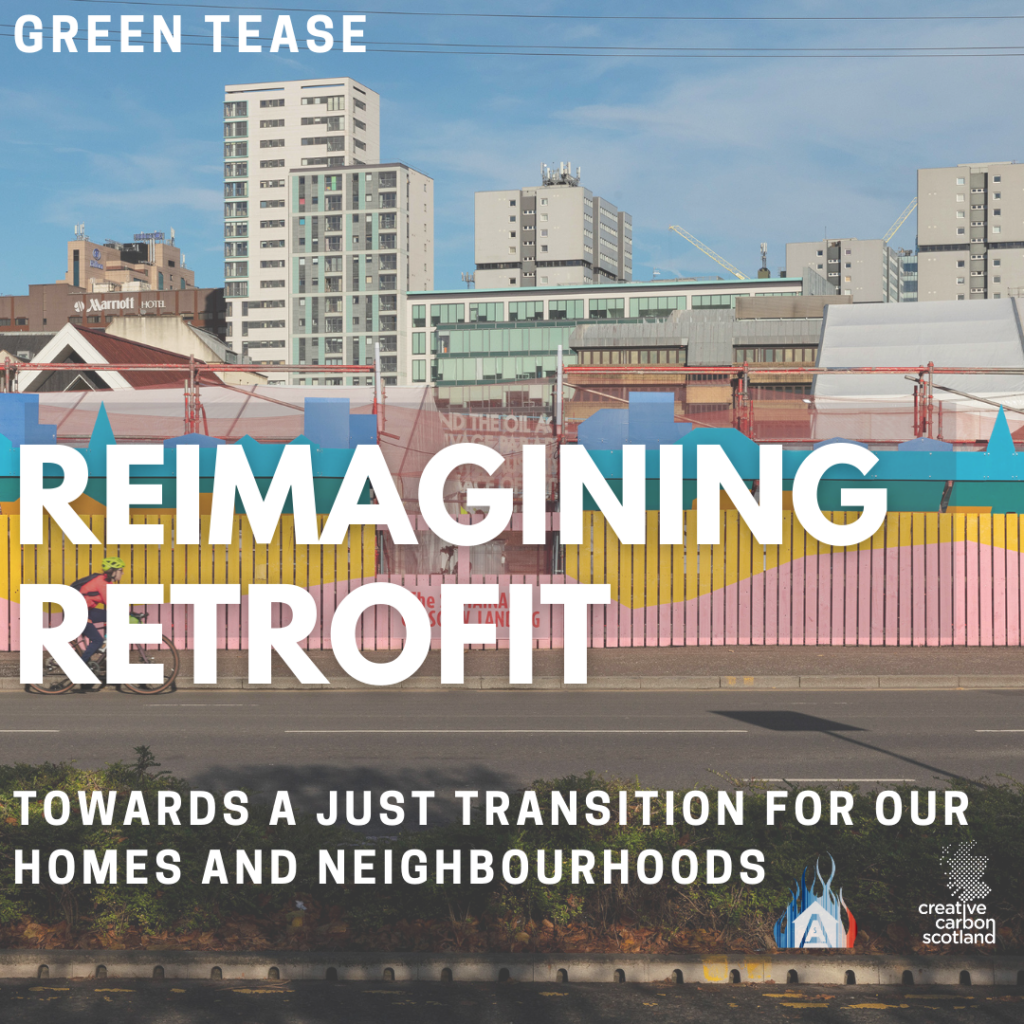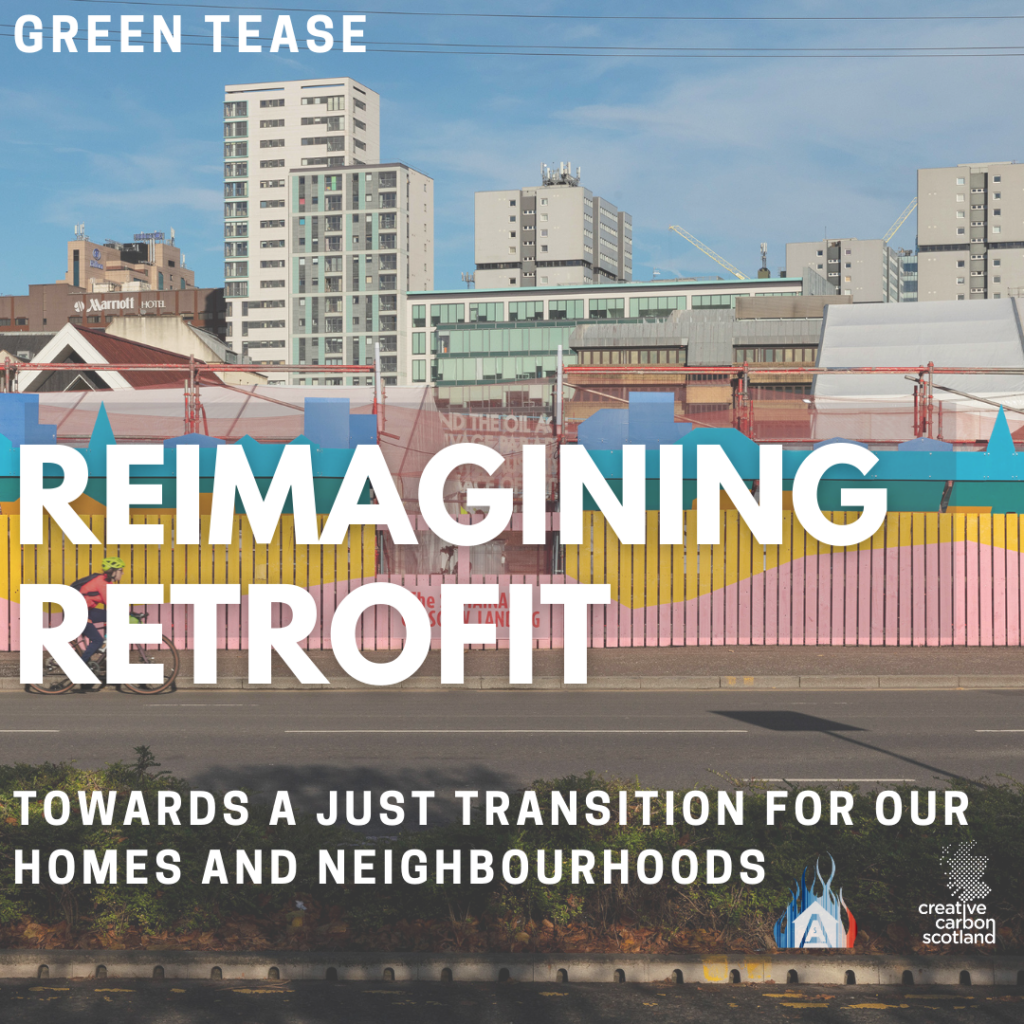 Green Tease: Reimagining retrofit
We are excited to host Green Tease: Reimagining retrofit on October 7th at Civic House – co-created by Creative Carbon Scotland and Scott McAuley from The Anthropocene Architecture School.
About the event:
Connecting culture, construction & communities to build the social infrastructure we need to sustainably transform the places we call home
What would a sustainable retrofit of neighbourhoods across Scotland look like, during the climate and housing crises? At this upcoming Green Tease we will explore the overlap between housing struggles and climate breakdown with artists, activists, architects and sustainability practitioners.
Through discussions and creative practice we will discover how art and culture can support a just transition that can transform our homes, streets and schemes, in an environmentally and socially sustainable way. As bell hooks said: 'The function of art is to do more than tell it like it is – it's to imagine what is possible.'
Co-created by Creative Carbon Scotland and Scott McAulay from the Anthropocene Architecture School, we invite you to imagine how we might thrive together if our neighbourhoods were prepared for the changing climate. Through discussions, and exhibitions we will reimagine what it means to 'retrofit', from individual homes to entire communities, reflecting upon our relationships to home and place.
This Green Tease will be an afternoon of coming together to explore the role of art and culture in shaping the future, and the role of those retrofitting homes, in practically getting us there. The tools to build sustainable, low-energy homes and to retrofit existing ones to standards fit for a climate emergency already exist – such buildings becoming the norm would both change and save lives. But without societal transformation, they will only remain possibilities.
---
Programme:
1.00pm: Welcome and introduction: why our built environment matters during the climate crisis, and the role it could play in Scotland's Just Transition.
1.30pm: Reimagining retrofit workshop. Connecting home to the climate crisis and reimagining what it means 'to retrofit' at scales beyond individual homes with ACAN Scotland, BE Changemakers, Imagine If CIC & the Architecture Fringe.
2.30pm: Break with coffee and tea
2.45pm: Exhibition, reflection and networking time. Chance to watch the film Dampbusters by Winnie Herbstein which explores the past, present and future of community organising in Glasgow, and to explore exhibition material on housing from Imagine If CIC and the Wyndford exhibition, co-created by students from Glasgow School of Art with the residents who live there.
3.30pm: Creative re-visioning: workshop on the role of culture in imagining a radical different housing future
How can creative approaches help us collectively imagine alternative ways of housing? Through experimental drawing, diagrams and willow-making with artist Martha Orbach we will explore how art can provide a space to reflect and rethink how we make a home amidst the climate crisis.
4.45pm: Wrapping up and a thank you!
---
About the organisers :
Creative Carbon Scotland is Scotland's leading arts and sustainability charity and Creative Scotland is the development body for the arts, screen and creative industries in Scotland. Green Tease is our ongoing informal events programme connecting cultural practices and environmental sustainability across Scotland.
Collaborators:
Martha Orbach
Martha Orbach is a Glasgow-based artist who makes work about home, precarity, and our relationship with our environment. Her mother's a radical environmentalist, and how we make a home amidst the climate crisis has been an incessant question in her life and practice. Her work's been shown at Streetlevel Photoworks, Merchant City Festival, Ty Pawb, and The Royal Scottish Academy.
Scott McAulay
Scott McAulay is a Glaswegian climate and spatial justice activist, a founding member of ACAN Scotland, a Co-Producer of the Architecture Fringe, and a Part 2 Architectural Assistant at Architype – one of the U.K.'s leading sustainable architecture studios, that specialises in Passivhaus-led and low carbon design. His work with the Anthropocene Architecture School has created spaces for thousands of people to come together and learn about the climate solutions and opportunities for a Just Transition in our built environments, and generated international impacts in architectural education – teaching widely across the U.K., Turtle Island, and mainland Europe, and beyond. In 2023 so far,
Scott has undertaken a residency during Architecture is Climate at Central St Martins – exploring the theme of Unlearning Powerlessness, contributed to European Sustainable Energy Week 2023 in Brussels on the invitation of the Architects Council of Europe, and contributed to an upcoming anthology sharing outcomes of 2021's School of Re-Construction. Scott supports a variety of climate justice, and community causes across Scotland, is an active member of Living Rent — Scotland's tenants' union. and is currently co-creating Retrofit Reimagined 2023 with partners across the U.K.
The Anthropocene Architecture School
The Anthropocene Architecture School is an un/learning infrastructure with activist roots and ethos: fusing architectural education with Climate Literacy, explorations of Agency, Entanglement, Spatial Justice, and the Radical Imagination. Through its Crisis Studios, participatory workshops, talks, peoples' assemblies, university lectures and dozens of events, it has created spaces for thousands of people, within and outwith traditional schools of architecture, to learn about where construction intersects with the climate crisis, what is already possible, and invited many more to make time to imagine the future otherwise. You can access AAS resources here, find its library here, and support its work into the future here.