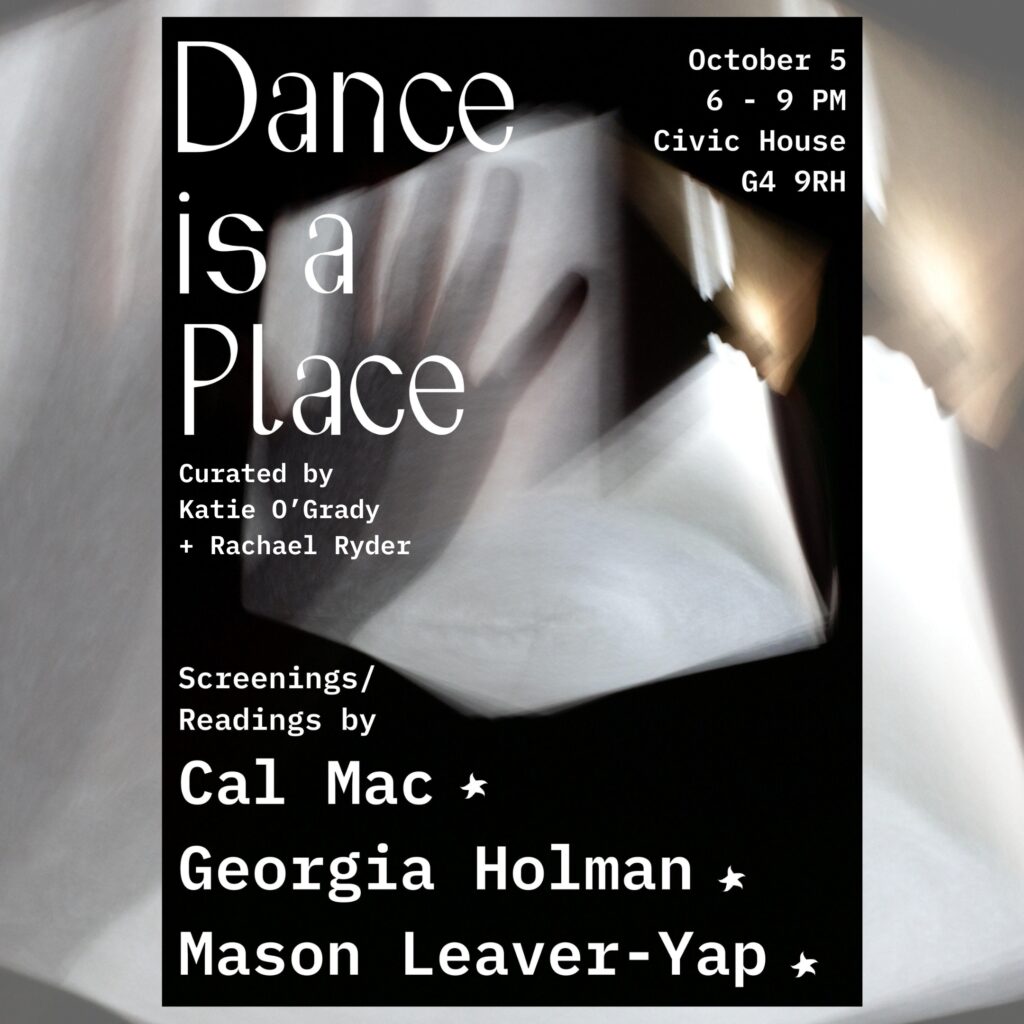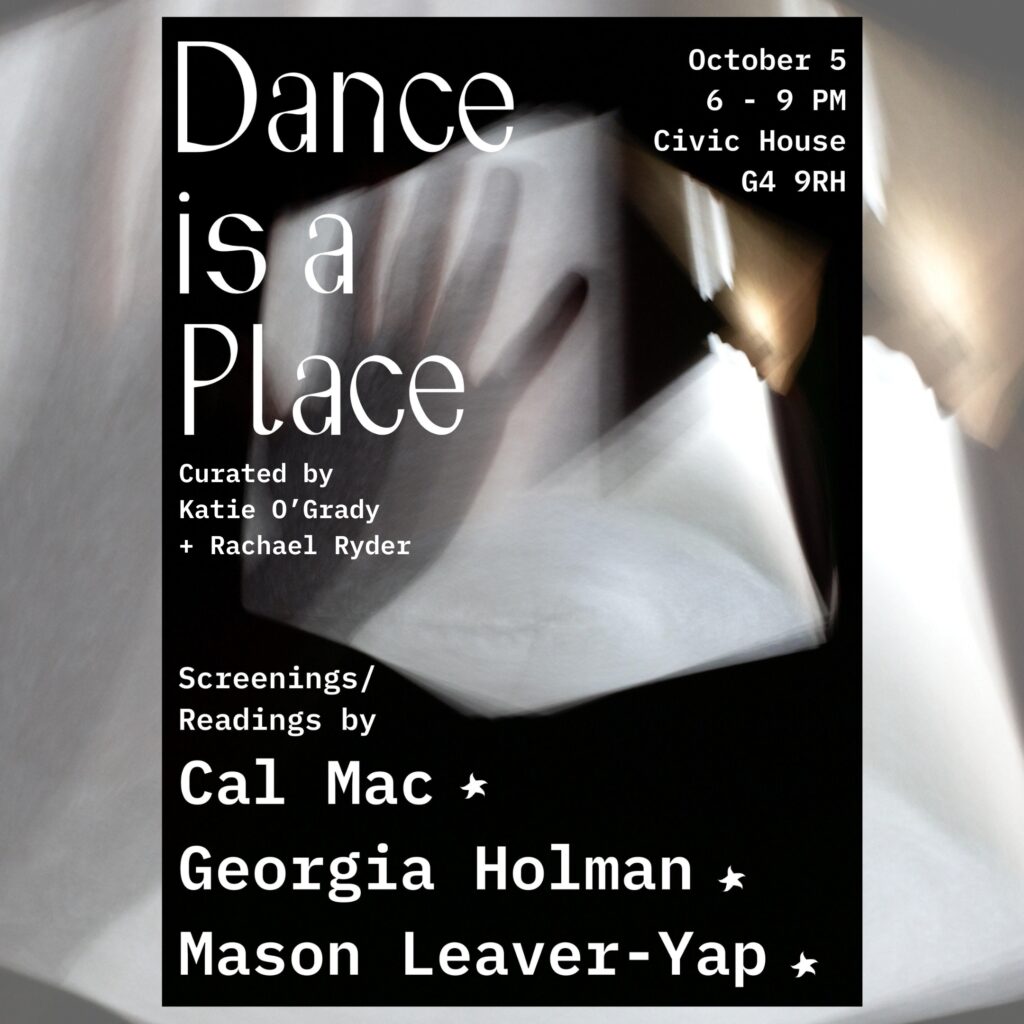 Dance is a Place – Exhibition of Moving Image and Spoken Word
Join us on October 5th for 'Dance is a Place' – an exhibition of moving image and spoken word featuring Cal Mac, Georgia Holman and Mason Leaver-Yap.
Rhythm and cycles are kind of disallowed in this worldview that we live in. It does not reward, or incentivise, or even perceive of the cycles—of the places to step back, to let go, to stop, to wait, which are a part of rhythm, of dancing. Dancing is as much the moves you make as the ones that you don't make, the places where you pause and just listen. – Prentis Hemphill – Atmos Magazine, January 2023 1
'Dance is a Place' explores the concept of synchronised movement within the human body and how this transcends physicality to become a type of new space, a place to journey and stay within. The exploration of dance in different contexts brings into discussion a rejection of capitalist individualism and the disruption of restrictive spaces and infrastructures. By contrast, dance manifests in the mimicry and rhythm of sequence, in the reformation of space, and in the blissed-out quest for recognition and connection. Dance has many forms – spiritual, seductive, joyful, resilient. Through this audience interface, the combination of curated works seeks to explore how dance, in the realm of personal experience, unfolds as a refuge, a realm for personal reclamation, and a medium of well-being.
This event is an exhibition and disco of moving image and readings which use dance to disrupt the everyday. The narrative seeks to frame dance not merely as a physical activity but as a sacred sanctuary for our bodies in a world that feels out of sync. It is an exploration of how dance, with its boundless ability to synchronise, can become a location for interpersonal rest and resilience. Through the screenings/ readings by Cal Mac, Georgia Holman and Mason Leaver-Yap, we hope to offer up a space for reflection on connection, embodiment and the profound desire to escape the now through joy.
About the contributors:
Cal Mac 
Cal Mac is a visual artist working and living in Glasgow. Working between sculpture, print and video, he explores themes of belonging and addiction through sociological and visual dialogues. Overlapping micro and macro, personal and political, his work often looks at clubbing and natural environments, enquiring into our current need for connection and escape. Within his diverse and multidisciplinary practice, his work has been screened at Recontres Internationales (Paris), Atlas Arts (Skye), The Royal Scottish Academy (Edinburgh), Limerick Institute of Technology, and online for Lift off Festival and Film and Video Umbrella. Following his first commission from Film and Video Umbrella in 2020, Mac has done residencies at Cove Park and Edinburgh Sculpture Workshop, and has given the Ben Read Memorial Lecture for the Royal Society of Sculptors in Leeds. In 2022 Mac opened the Aye Festival with his large-scale solo exhibition at the Pipe Factory, and went on to make his second large-scale solo exhibition 'Bloodbath' at Outlier Gallery in July this year. This October Mac will undertake the Margaret Tait Residency in Orkney.
Georgia Holman 
Georgia Holman is an artist and writer based in Glasgow. Using poetics as a medium to project the imagining and making of an inverted world, her work questions how we can build empathic structures as a resistance to the neoliberal pervasion of individualism. Working primarily with written text, her work in then expanded into mediums of moving image and performance.
Mason Leaver-Yap
Mason Leaver-Yap works with artists to make exhibitions, events and publications. He has recently been working with Ingrid Pollard, Emily Wardill, Renée Green and Free Agent Media, Onyeka Igwe, Jimmy Robert, Jamie Crewe, James Richards, and Alexis Kyle Mitchell. He lives in Glasgow.
This event is curated by Katie O'Grady and Rachael Ryder.
1 [https://atmos.earth/adrienne-maree-brown-and-prentis-hemphill-on-embodiment/]