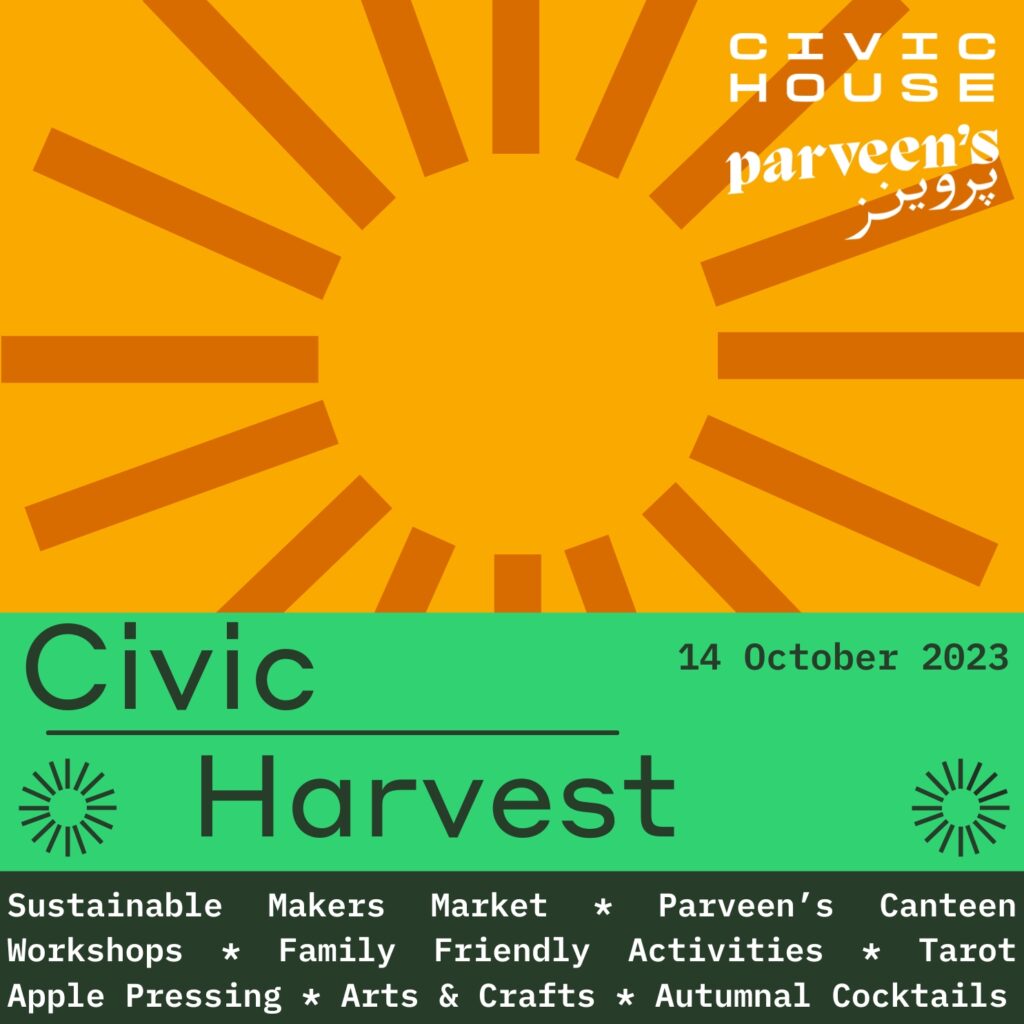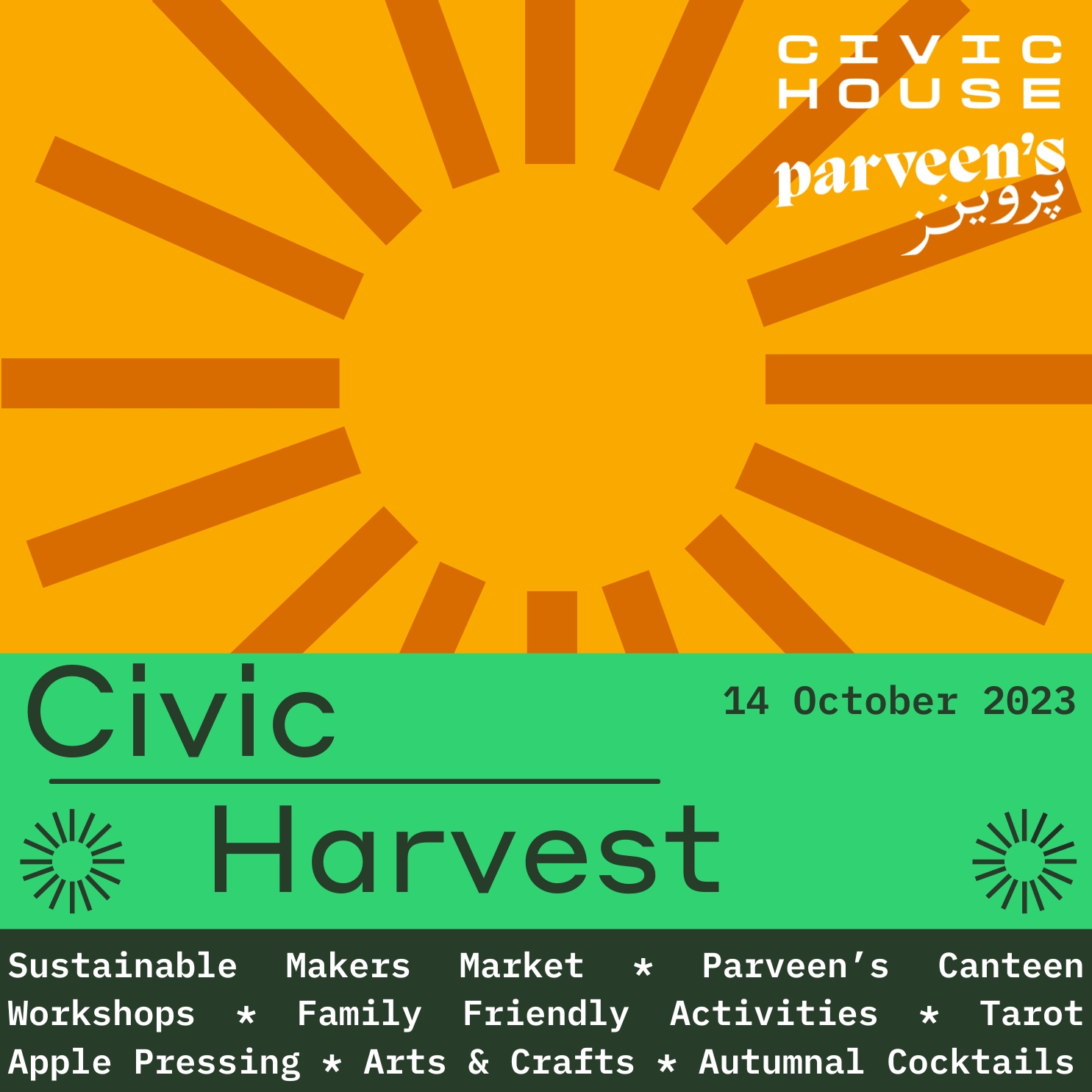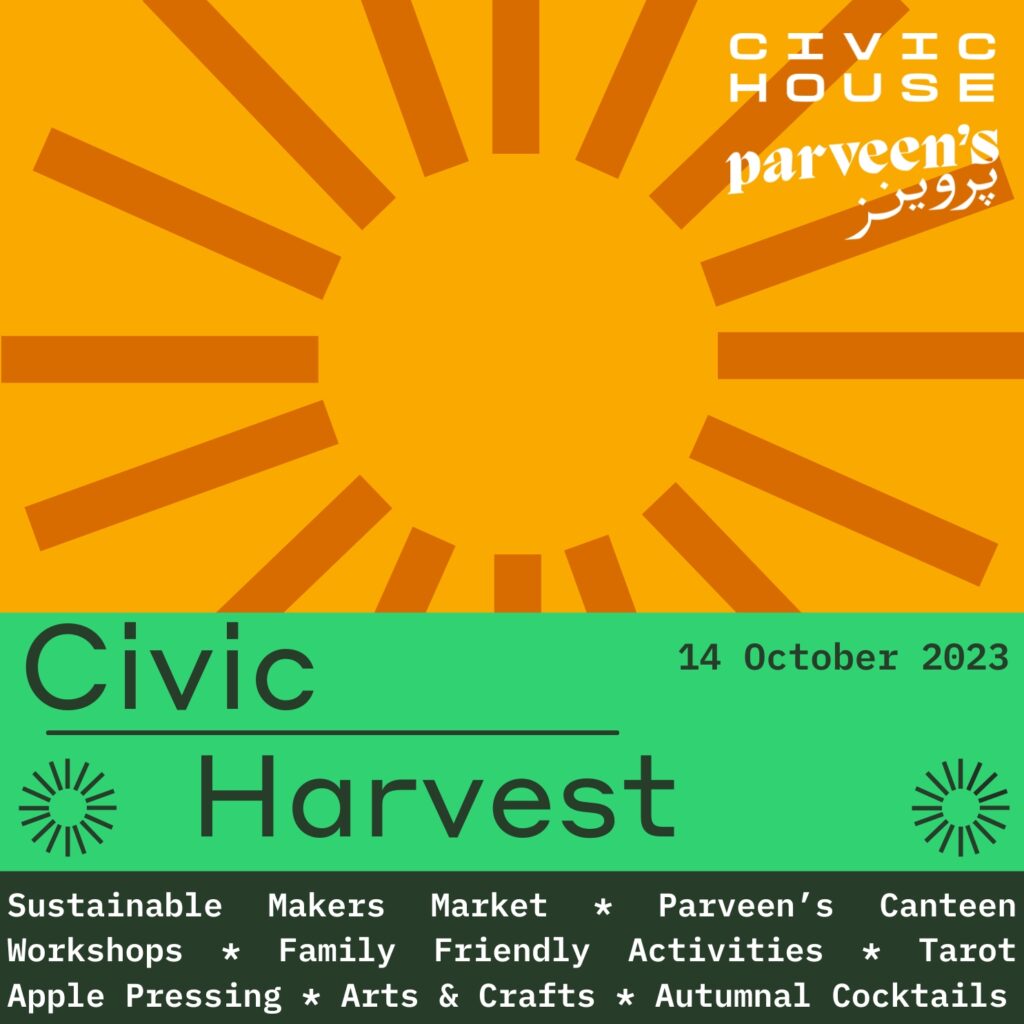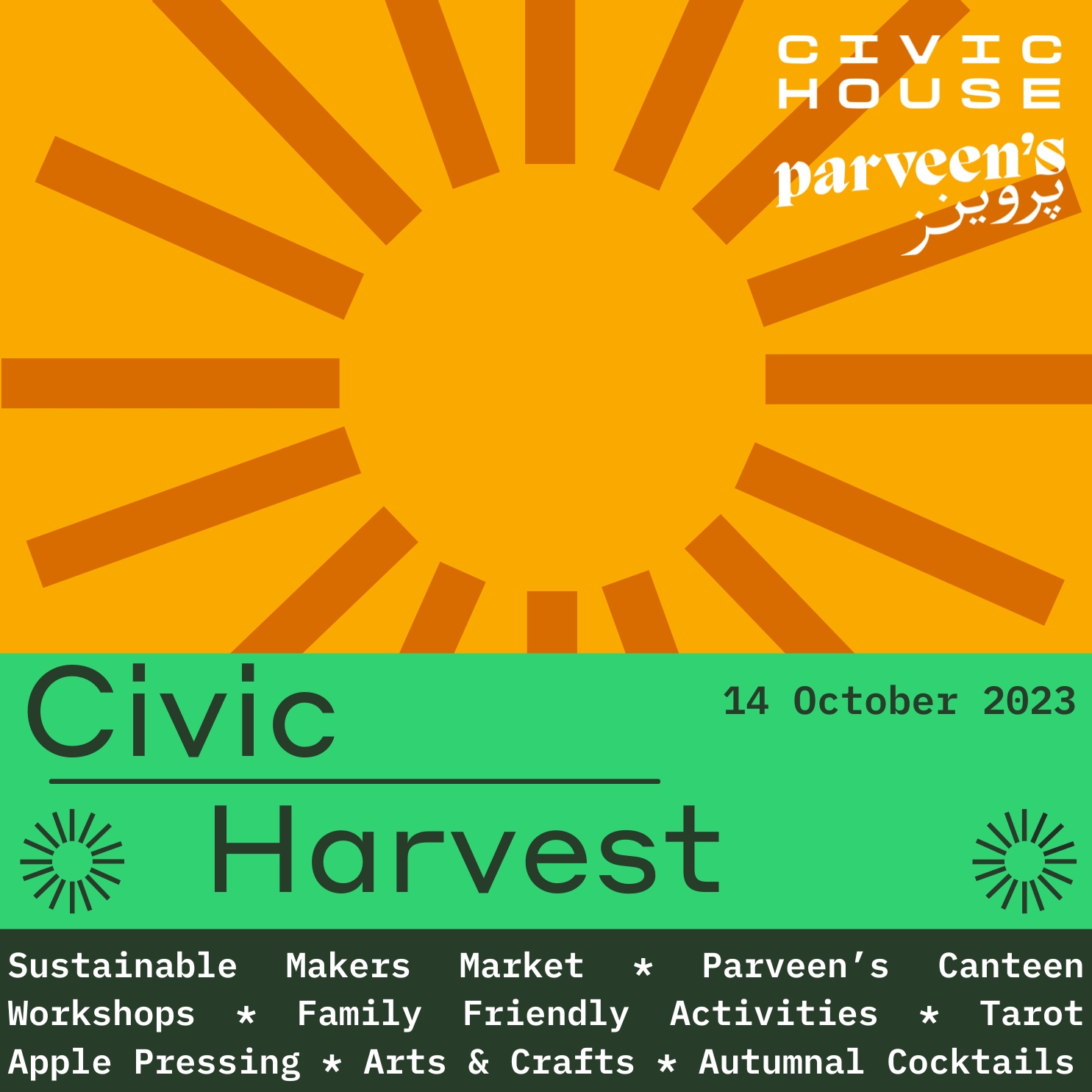 Civic Harvest – October 14th
Join us on Saturday, October 14th for Civic Harvest – an Autumn themed day of family friendly activities, workshops and market stalls with lunch from Parveen's and seasonal cocktails at Civic House Bar!
From apple pressing and potato printing to pumpkin spiced drinks and sonic workshops this will be a fun-filled day at Civic House.
Family friendly – with some activities ticketed but lots to drop-in to on the day!
---
Programme:
Sustainable Makers Market
12:00 – 18:00
Join us in the venue at Civic House and outside in our yard for a market of local sustainable makers in Glasgow. From 12 to 6 PM you can find an array of handcrafted goods, upcycled clothing and homewares, tasty treats and sustainably made artworks. Keep an eye on our Instagram to see an update of the vendors presenting their wares.
Parveen's Canteen
12:00 – 16:00
Our wonderful canteen operators Parveen's will be open for the day serving up one of their delicious lunch bowls and tasty sweet and savoury snacks – all free from animal produce and inspired by the flavours of Pakistan.
Tarot Reading by Two For Joy Tarot
12:00 – 18:00 
Have your Tarot read by Genevieve of Two For Joy Tarot. They will be offering 6 card readings for £20 (30 minutes) or 10 card reading for £30 (40 minutes). Get in touch with them over Instagram to book in your slot on the day.
Glasgow Apple Pressing 
12:00 – 16:00
Come and press you own apples into delicious apple juice with Glasgow Apple Pressing. This activity will be drop-in and located in our yard on Civic Street. Please don't forget to bring your own apples!
S.T.A.R* Tot Workshop Inspired by Earth Super Heroes
Varied slots from 12:00 – 15:00
Bring your tots to S.T.A.R* Tot workshops – immersive storytelling, art inquiry & creative, messy & sensory play in a child-centred environment. Sharon McGregor established the StarTot workshops because she believe it's essential to offer an opportunity for babies/toddlers/preschoolers (with their caregivers) to creatively explore themes in Science, Technology, Engineering, and Maths (STEM) through messy, sensory and creative play.
Civil Twilight
17:30 – 19:30
A workshop on harvesting the benefits of sleep through the ecological arts of poetry and music.
Get your brain sticky in the pumpkin meat of the circadian and join Kevin Leomo and Maria Sledmere in carving dreamtime as an expression of creativity and low carbon pleasure. As the nights draw in and the clocks go back, we'll be thinking about how darkness affects mood and slumber. Civil twilight is the brightest of the three twilight phases, where stars and planets might be seen in the sky as the sun dips just below the horizon. By attending to the 'nocturne' as a form in poetry and music, we'll dwell in the possibilities of liminal experience for cultivating ecological imaginaries.
Please bring: Preferred writing materials, If you have one, a reusable coffee cup, Headphones and phone
*Booking via Eventbrite to be announced soon*
Civic House Bar
15:00 – Late
Come hang out at our bar and enjoy our alcoholic and non-alcoholic autumnal cocktails from 3 PM to late.
---
Accessibility: 
If you have any questions about accessibility requirements please get in touch with Katie at hires@agile-city.com