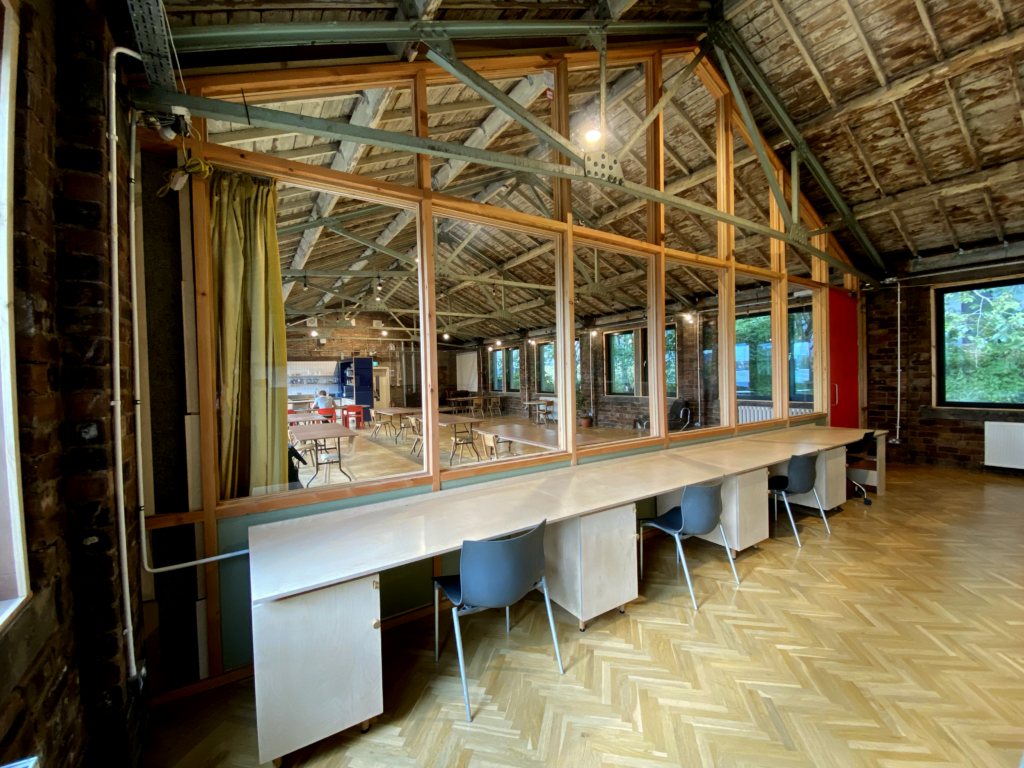 Coworking
Online Booking – Coming Soon
Civic House Studio is a new collective coworking for Glasgow.
The space responds directly to new (and future!) demands of work culture as we emerge from the pandemic.  Open-plan and flexible, high ceilings with great acoustics, original industrial material palette, bathed in natural night, heat-exchange ventilation system, and access to the outdoors.  We have created a supportive environment that champions flexibility and stability, a place for collaboration and focused work, fostering a community of shared ethos around our themes of city making, sustainability in action, cultural and social enterprise.
The workspace is split into two sections – an area occupied by fixed-desks, and an open-plan hot-desking area that can also be used as an event space outside of working hours (Mon-Fri 9-5).
This includes:
Large, open-plan and flexible space – retaining the original materials and generous architecture of the 'Composition Department' of the original 'Civic Press LTD'
Filled with natural light, with large openable windows
Increased airflow and industry leading ventilation and heat recovery system
Access to outdoors – project space, yard and community garden under development
Bike storage, shower and changing facilities to encourage cycling and walking to work
Flexible meeting and venue space – to expand for team sessions or workshops
Flexible membership options
Guideline Pricing below:
Fixed Desk £240 – month (inc. VAT)
→ Custom made desk with scalable storage options
→ 24/7 access
→ Optional team working
→ Business address
Hot Desk £120 – month (inc. VAT)
→ Mon-Fri, 09:00 – 17:00
→ Flexible, rolling monthly contract
→ Optional locker storage
All memberships access the shared facilities:
→ Communal kitchen
→ Super-fast 200mb dedicated studio wifi
→ Photocopier and paper cutting area
→ Informal meeting spaces
→ 20% discount on venue and project space bookings for events, meetings, workshops.
More info can be found here, or contact Natalie: civichouse@agile-city.com