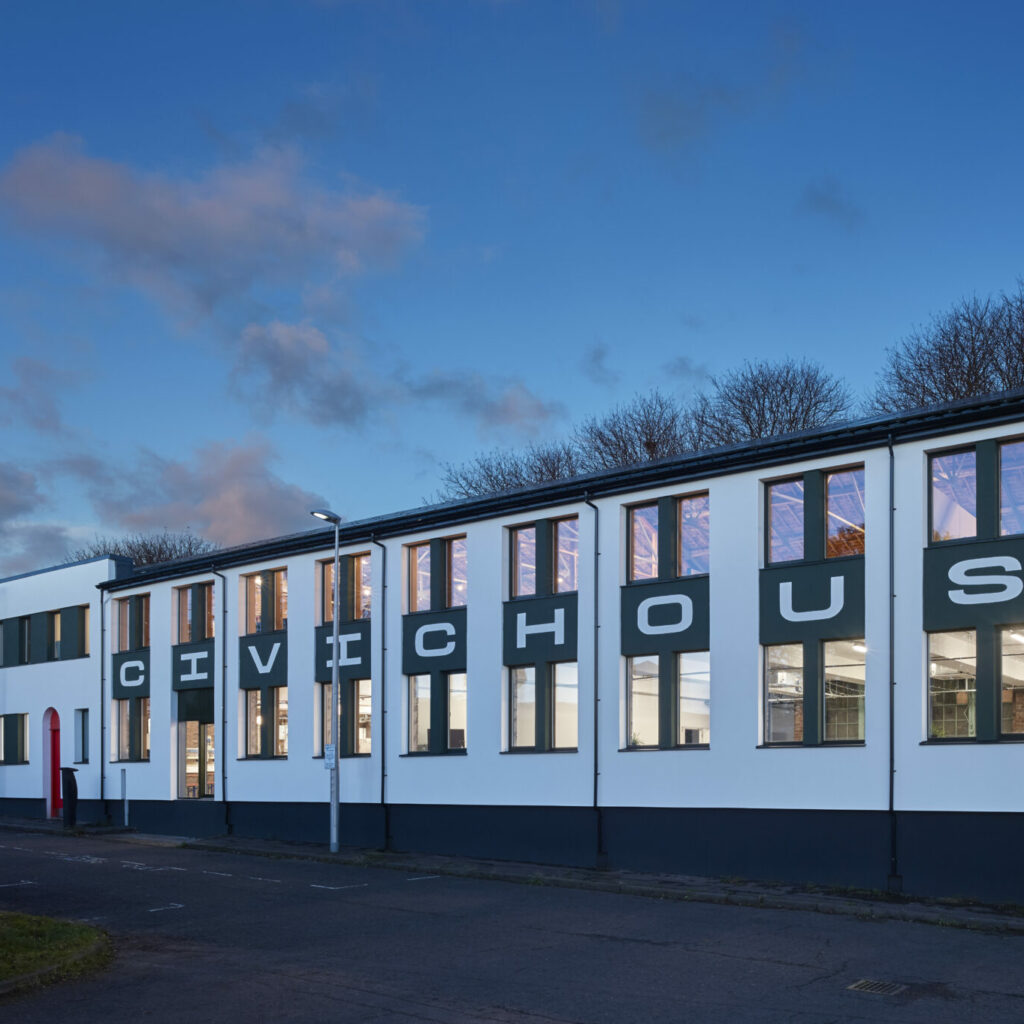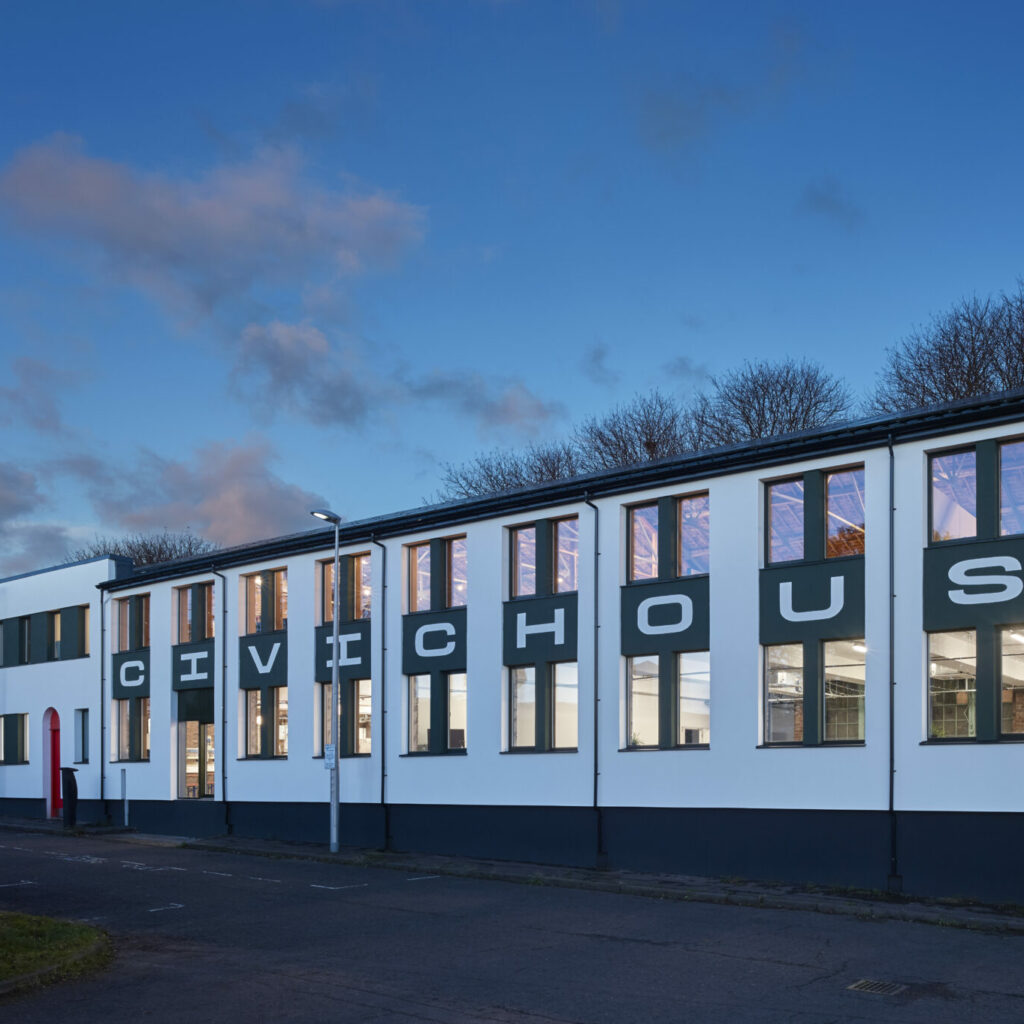 PassivHaus retrofit of Civic House
The ambitious retrofit of Civic House – a prototype for making post-industrial buildings energy positive.
Built in the 1920s as a print works, Civic House was designed with little consideration for energy efficiency or thermal performance.  Like many buildings of its era, it required vast amounts of energy to heat to contemporary standards and became prohibitively expensive to operate.
Due to these factors, many post-industrial buildings are demolished to make way for new buildings. We believe this is a huge waste – losing vital historical, cultural and economic heritage. These buildings celebrate Glasgow's rich industrial past and tell the story of the city and its changes – what was possible in the past and what is possible in the future.
In the early 1900s, the area around Cowcaddens (where Civic House is located) was one of the most densely populated areas in the developed world due to employment opportunities provided by industry linked to the Forth & Clyde Canal. Following industrial decline, communities were dispersed and many buildings and sites became vacant and derelict.
We have worked in this area since 2011 and our projects respond to this context by considering sustainable approaches to repurposing industrial buildings, and addressing issues of vacant space through activation, testing and learning.
In 2019, the World Green Building Council reported that building and construction are responsible for 39% of all carbon emissions in the world. Additionally, it is estimated that 75% of the existing building stock in the UK will still be in use in 2050. This highlights the urgent need to reassess new-build construction and improve our ability to repurpose existing buildings and ready them for a low carbon future.
At over 100 years old, we believe Civic House can be an inspiring example of how we can improve our existing building stock to support a low carbon, climate ready future. In essence, factories that once supported industrial growth can support new green industries and knowledge exchange, and become the 'micro-power stations' of the future.
The project
With support of funding from Climate Challenge Fund, Collective Architecture was appointed in 2018 to facilitate an energy analysis and feasibility study to define the scope for retrofitting the existing building.  The energy balance tool 'Passive House Planning Package' (PHPP) was used to verify the heating demand before and after retrofit.
This feasibility study was the foundation for raising funding to deliver the project. In 2019 the project was awarded £319,500 from Scottish Power Energy Network's Green Economy Fund, which was match funded by a loan / grant from social enterprise lender Resilient Scotland (now merged with Foundation Scotland) and Regeneration Capital Grant Fund from Scottish Government.
A key aspect of the brief was to establish a step-by-step retrofit approach and phased development plan were to be considered in order to tie in with the available funding. It was agreed to take a fabric-first approach, focusing on external works to reduce the energy demand and associated carbon emissions, using the EnerPHit standards as a design tool.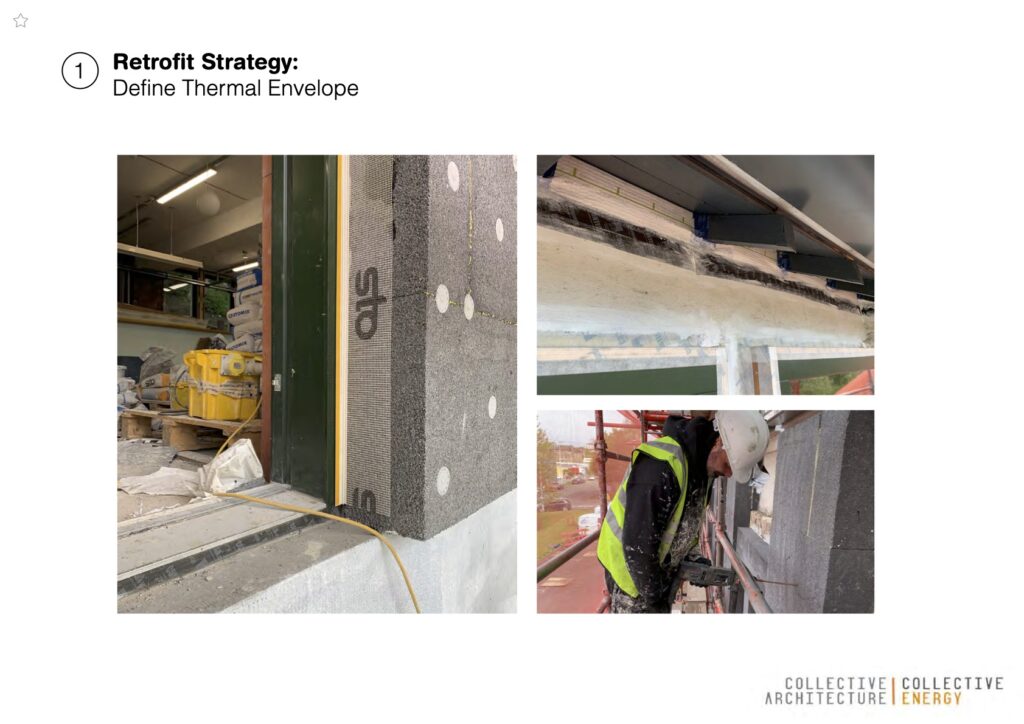 This included the installation of an insulated panel system to the walls and roof and the upgrading of the doors and windows to Passivhaus standards. The approach would also provide comfort and well-being for the building staff and visitors, whilst also improving air quality via mechanical ventilation with heat recovery.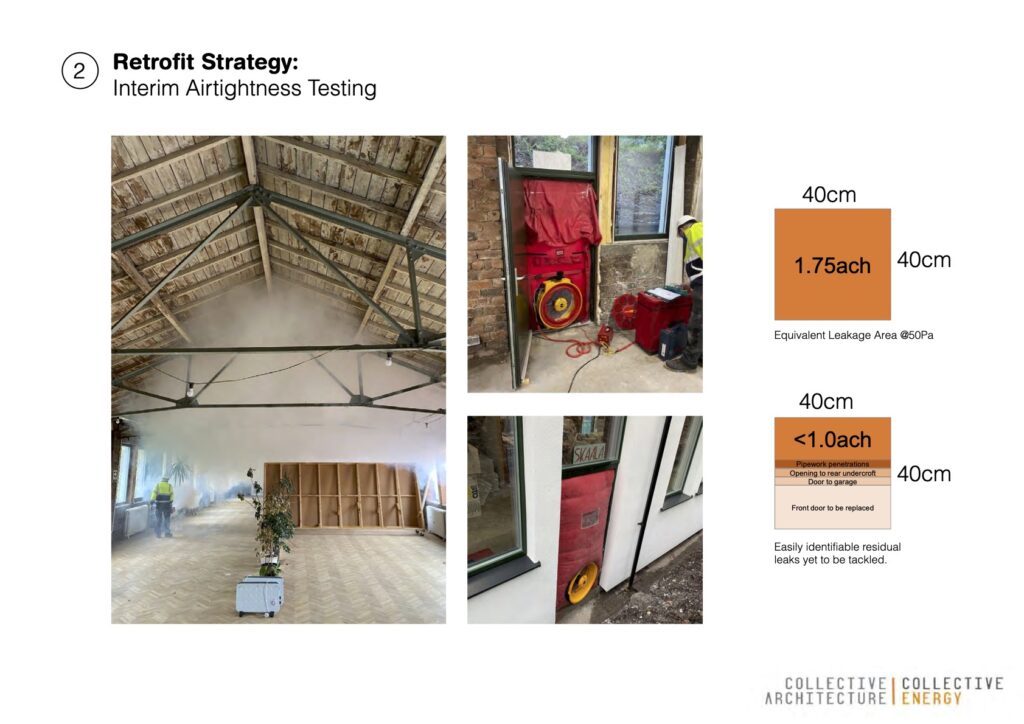 The community activities of the building are supported by the building's sustainable development – which saw the building being deeply retrofitted, with the installation of a full 50kWp Solar PV array on the roof – reducing heating demand to an absolute minimum via high specification insulation and heat-recovery systems, while also generating more electricity than it consumes over an annual basis. In essence the building can become one of many mini power stations of the future.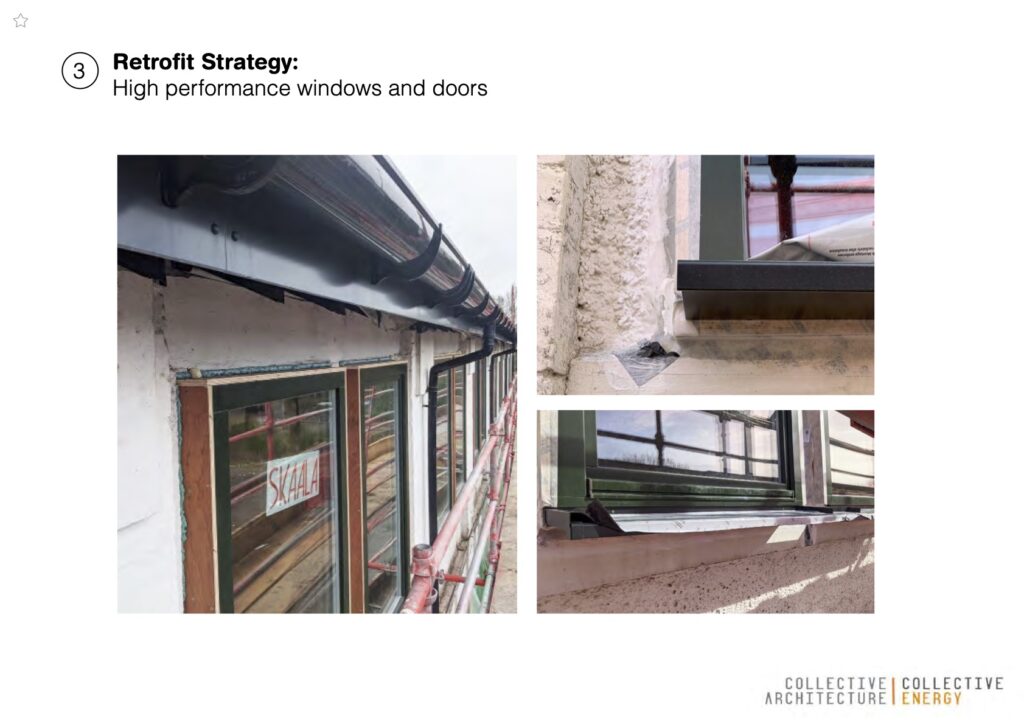 As part of the 'whole systems approach', the refurbishment of Civic House included:
External Wall Insulation between 150-200mm
High performance doors and triple glazed windows
Mechanical Ventilation Heat Recovery System (MVHR)
Air Source Heat Pumps to ground floor
Composite Insulated roof panel system
PV Solar Panels – roof array 50kWp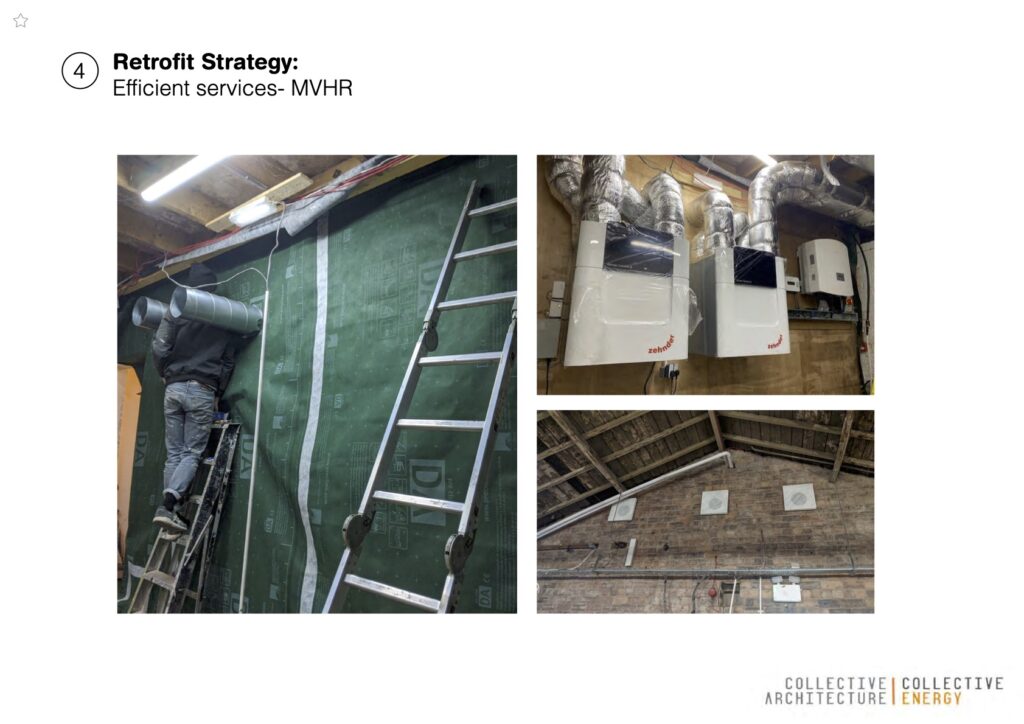 Now complete, Civic House provides a coworking space on the first floor, canteen and venue on the ground floor. The building brings together a community working across architecture, design, music, film, and food. We aim to provide space and facilities to turn ideas into action and build a positive future for Glasgow.
Earlier in 2023 we were nominated for the Architects' Journal Retrofit Awards, and nominated for Client of the Year at the Scottish Design Awards, where we later awarded Silver for Architecture: Retrofit.
All technical images used with thanks to Collective Architecture and Collective Energy.