MOTO is a completed mobile pavilion for testing program and activity in underused public space. The prototype was developed during BIO 50 – 24th Biennial of Design Ljubljana by Uroš Babnik, Mika Cimolini, Adrian Friend, Lee Ivett, Aleš Ogorevc, Staša Dabič PericaThere. The project is the result of a 6 months collaborative work among the Biennial.
The project is designed as an affordable mobile hub where common public programs can be devised in collaboration with the inhabitants of the neighbourhoods, creating a common space to improve their living conditions and boost social interaction. The open framework of the project allows different people to express themselves, create and explore.
During BIO 50, MOTO was installed in a neighbourhood of Ljubljana that suffers from an abundance of leftover, empty and unprogrammed space between the buildings, which is typical of post-war urbanism. From September to December 2014, MOTO hosted exhibitions, debates, music and sport events; collective meals to explore the future of food, fashion and households; and provided architectural consulting, conduct workshops with children…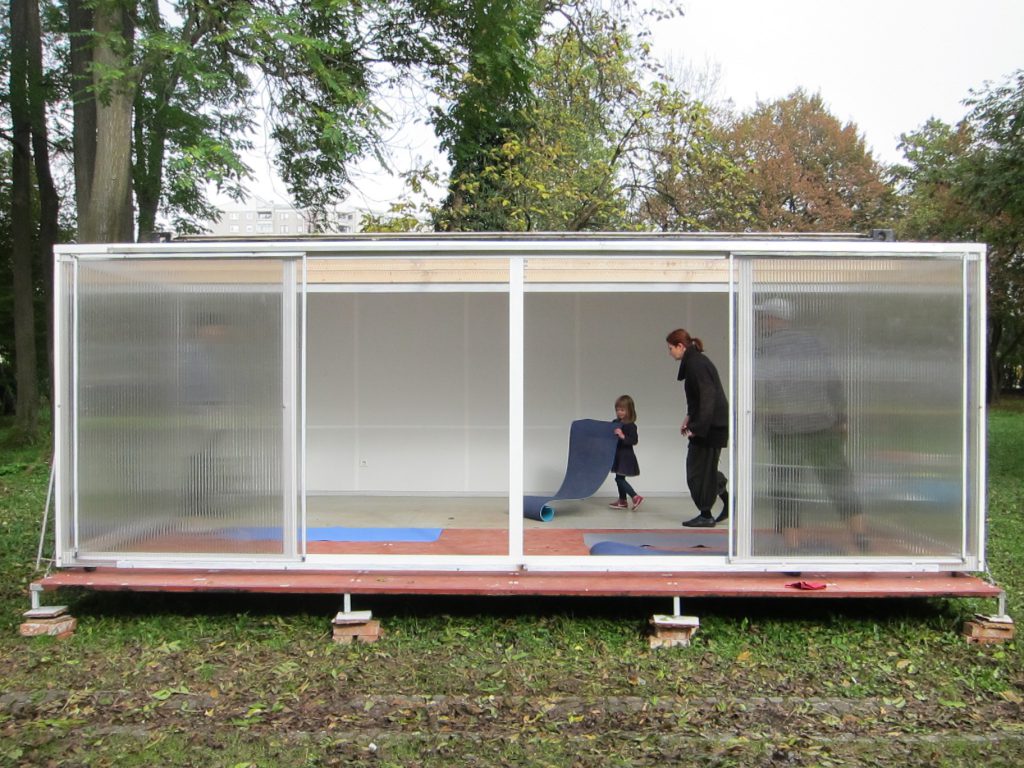 The space was taken over during Summer 2015 to host a special youth programme about community-based theatre and performance art training. Actors, artists, musicians, and educators provided free workshops on basic playwriting and acting, visual, narrative, and musical storytelling, and a combination of conventional and experimental techniques. It ended with a live performance at Mini Teater given by the participants.
The design aims to take advantage of the standardised space offered by the container, allowing it to easily adapt everywhere, as well as being appropriated by the inhabitants. It is also flexible enough to act, not only as a "project office" orientated to the communication of an urban project or regeneration masterplan, but as a mobile public space, theatre venue or host any type of activity.
A video of Lee Ivett of BAXENDALE speaking about the project is here: